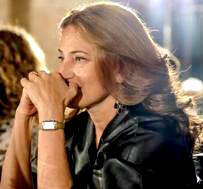 Liliana Ponzano da sempre opera in ambito moda e retail.
Per un periodo di oltre 15 anni ha collaborato con importanti aziende italiane del settore, per le quali ha svolto ruoli diversi, quali: responsabile campagna vendite in showroom, store manager e visual merchandiser. Trasferitasi in Cina nel 2001, per tre anni si è occupata dello sviluppo di alcuni brand anche in Giappone e Corea.
L'ultimo anno di vita a Shanghai ha seguito la creazione di una collezione di abbigliamento maschile. Rientrata in Italia ha svolto ruoli dirigenziali in area commerciale e retail, per aziende leader nello sviluppo di format innovativi. La passione per il sistema moda, il Made in Italy ed i prodotti del segmento lusso, l'ha spinta ad incrementare le sue capacità con una specializzazione in Consulenza d'Immagine e Personal Shopping. Nell'esercizio di quest'ultima attività, con la volontà di arricchire l'esperienza di clienti italiani e stranieri, offre una gamma di servizi avvalendosi della collaborazione di partner di alto livello e professionisti qualificati che garantiscono una profonda conoscenza di specifici settori.
Liliana Ponzano has spent her professional life in fashion and retail.
For 15 years she worked for important italian companies being in charge of: seasonal sales campaign, store management and visual merchandising. Moved to China in 2001, for 3 years she has been responsible for brands business development also in Japan and Korea. Last period in Shanghai, she followed the creation of a menswear collection.
Since she has been back in Italy she covered Retail Director role for international companies leading new commercial format development. Passion for fashion and focus on Made in Italy, fine and luxury products, made her increase and improve her skills with professional Image Consulting and Personal Shopping certification. Developing this activity and willing to enrich italian and foreign shopping experience, she offers a range of services taking advantage from the cooperation with high-level qualified professionals who guarantee expertise on specific fields.